A plugin to Add Address Bar Color In Google Chrome(Mobile Version)
Color Your Bar gives a simple way to change the color of address bar of Chrome browser for mobile devices. Color address bar works only on mobile version of Google Chrome. So you need to check changes on mobile device.
Use Color Your Bar is quite simple. Just install the plugin and enable it and choose your required color and save. That's simple.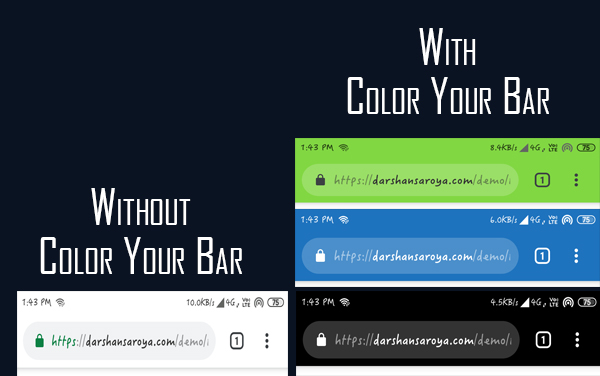 Color Your Bar- Live In Action
Without Color Your Bar
With Color Your Bar
With Color Your Bar
With Color Your Bar
Frequently Asked Qustion (F&Q)
Navigate to Color Your Bar and enable it. Choose your required color from color picker and save it.
Currently only Google Chrome mobile version support this. May be in future, other browser also support this.
Color Your Bar is distributed under the terms of the GNU General Public License as published by the Free Software Foundation, either version 2 of the License, or any later version.