Improve Retail Email Strategies to Boost Your Sales
In an Internet-ruled world, some people think email is a dinosaur because it's present since forever. The difference between our old friends and email is that dinosaurs are extinct while email is still going strong. With 99% of people checking their emails daily. It won't be going anywhere, anytime soon.
For retailers, email is a workhorse that improves customer retention, client trust and conversion rates. During the last 10 years, it was the channel that brought the highest ROI for the public. Why? Because it's a straightforward way to reach the right audience, at the right time, wherever they are.
The retail world comes with many challenges because it's fast-moving and competitive. To successfully convert prospects, retailers need to be as connected as possible with their public. They need to engage their customers where they live, and most of them are living on their smartphones.
This guide highlights the most powerful email marketing practices all retailers can use to convert their prospects into loyal clients and get their sales booming.
Send beautiful emails to convert prospects
Your marketing campaign supports your brand's success, so it's crucial to create beautiful images that reflect your brand's values. Because there's no general formula for a beautiful design, you need to identify what your audience finds appealing. Beauty is usually a reflection of personal preferences.
Retail emails should contain the same images promoted during marketing campaigns.
Choose images that stretch full width across all screens. Send emails that look beautiful on all screens, from desktops to smartphones and watches. For the retail email to be successful, it should contain both image and text. A clear image accompanied by strong and clear call-to-action guarantees the recipient will open the email and read it.
Stay true to your brand
Developing a brand is a time-consuming task. Use emails to share with your prospects the values your brand promotes. Create a consistent email experience to attract and retain prospects.
A successful retail email is one that creates an emotional connection with the recipient. Each brand is associated with the emotion it generates, so ensure your emails elicit the same feeling because your customers probably recognize it. The goal of retail emails is to convince prospects to engage with the brand. By sending emails that stay true to your brand's values you encourage familiarity, so clients find easier to respond to your call-to-action.
Send easy-to-read emails
The average adult has an 8-second attention span. After scanning and skimming the emails in 8 seconds they decide if they want to read it carefully or send it to the recycle bin. You have only 8 seconds to convince them you've sent valuable information. Either the style and quality of the text or the content of the email will convince them to continue reading.
An easy-to-read email captivates the recipient's attention, so create a concise text that clearly delivers your message.
Tell the reader what you promote because it makes easier for them to digest content and react according to the call-to-action.
Test email effectiveness before sending it to everyone
Before sending retail emails to prospects, check if the message resonates with their preferences. Even if you research to identify what your public's needs and preferences are, it's difficult to identify the email that will resonate with them. This is why it's important to make A/B testing. A/B testing allows you to check which email variant has higher open and read rates.
Use A/B testing to check subject lines, content, and even images.
Create multiple subject lines and ask the public to vote which one would draw their attention to open the email. Advanced testing implies using different email templates to identify the one with higher click rates.
Ensure people can read it on mobile devices
Mobile opens an account for 46% of all email opens. (Litmus.com) During vacations and holiday seasons, the percent skyrockets because customers are on the run and use their smartphones and smartwatches more than ever.
Nowadays, optimizing content for mobile is no longer something nice to have, it's a must. Mobile compatible emails drive more opens, clicks and sales. If you don't create a mobile-first strategy, recipients don't engage with your message and you may lose them.
Dynamic content helps you personalize messages
Sending personalized messages works great for retail. This strategy allows you to send customized emails to your subscribers by tailoring text according to interests, past purchases, age, and gender.
Personalized retail emails generate incredible results. An email with a customized subject line is 26% more likely to be read. Segmented retail email campaigns are 760% more successful in driving revenue than traditional ones. (Campaign Monitor) When receiving content customized to their preferences, people are more likely to read the entire email, click on the link, and make a purchase.
With online tools at hand, retailers find easier to personalize emails in countless ways. But before using one of these tools, it's important to segment the email list. Sort clients based on their location, past purchases, age, and gender. A CRM system can prove useful for this task. Once the segments identified, the next step is to create specific offers for each of them.
Sephora is a retailer that reached booming online sales because it created a customer loyalty program. This loyalty program encourages clients to spend enough to reach VIB Rouge status, so they can enjoy special offers and promotions. These clients receive emails tailored especially for them. To make messages feel more personal, Sephora includes their client's first name in the email.
Image source: https://www.reddit.com/r/MakeupAddiction/comments/50jyjg/sephora_beauty_insider_appreciation_week_event/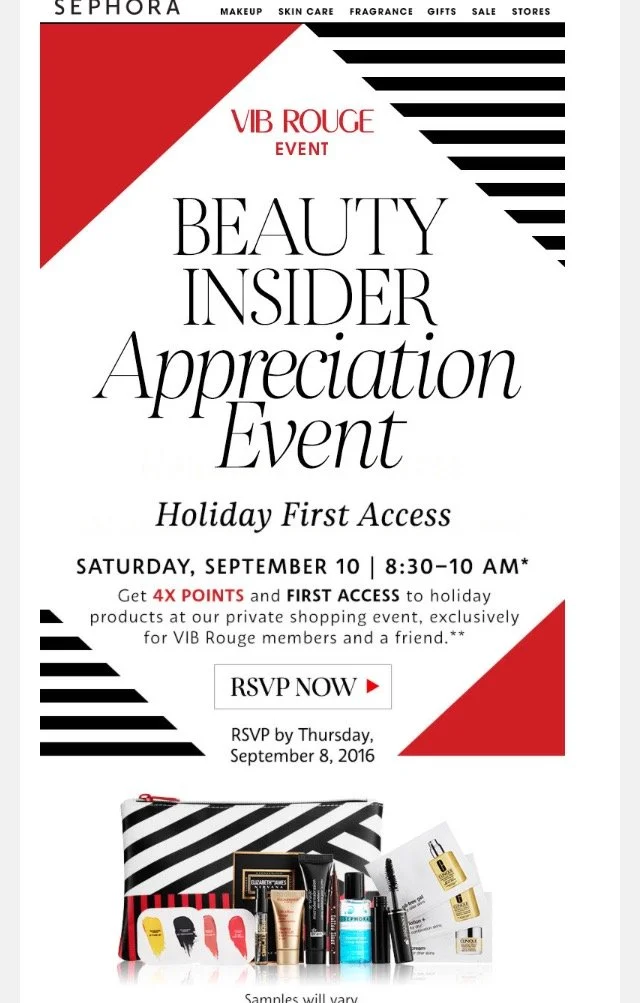 Marketing automation is the star of retail email marketing
Marketing automation is great because it allows you to send messages automatically. You create a template, and the system automatically sends it when the client completes a certain action. For example, when they register on the website for the first time, sign up for newsletters or updates or add items to their shopping carts, they automatically receive a pre-determined email from a series you previously created. Retailers call this strategy "customer journey" because it allows them to maintain a stable connection with prospects and loyal clients.
Buyers want to receive emails about offers, discounts, orders, returns, promotions, sales, and new products. Marketing automation helps you keep your public informed about their account activity.
Automated emails based on the subscriber's behavior have 8 times more chances to be opened and read than other emails.
How can you use marketing automation?
You can create templates for the following emails.
Welcome emails
Registration confirmation
Email address confirmations
Password reset emails
Order confirmations
Shipping confirmations
Support notifications
Cart abandonment emails
Purchase receipts
Review request emails
Related product emails
Birthday or anniversary emails
Review requests
Proofread and check grammar multiple times
You'll probably spend hours to design the perfect email. You research the target audience, try to identify their preferences, and customise the content to fit their needs. But it fails its purpose because of a typo. There's no worse feeling than knowing you sent emails filled with typos because chances are the recipients to mark them spams and delete them.
To prevent this from happening, proofread the text, check grammar multiple times, and use websites that write for you to write polished emails. You can also do a quick read-aloud to ensure that the email isn't written clunkily. Even if your message is concise, it shouldn't sound like a robot wrote it.
Our choices for best retail email campaigns
To better understand how to create a perfect retail email, and how to apply the above strategies, here are some examples of well-rounded campaigns.
Glossier
Why do we like this email?
– It has a straight-forward call-to-action
– The text is concise and simple
– It has an educative purpose
– It's interactive
– It provides complete information (types of products they offer, guidelines on how to use them, and costs of shipping)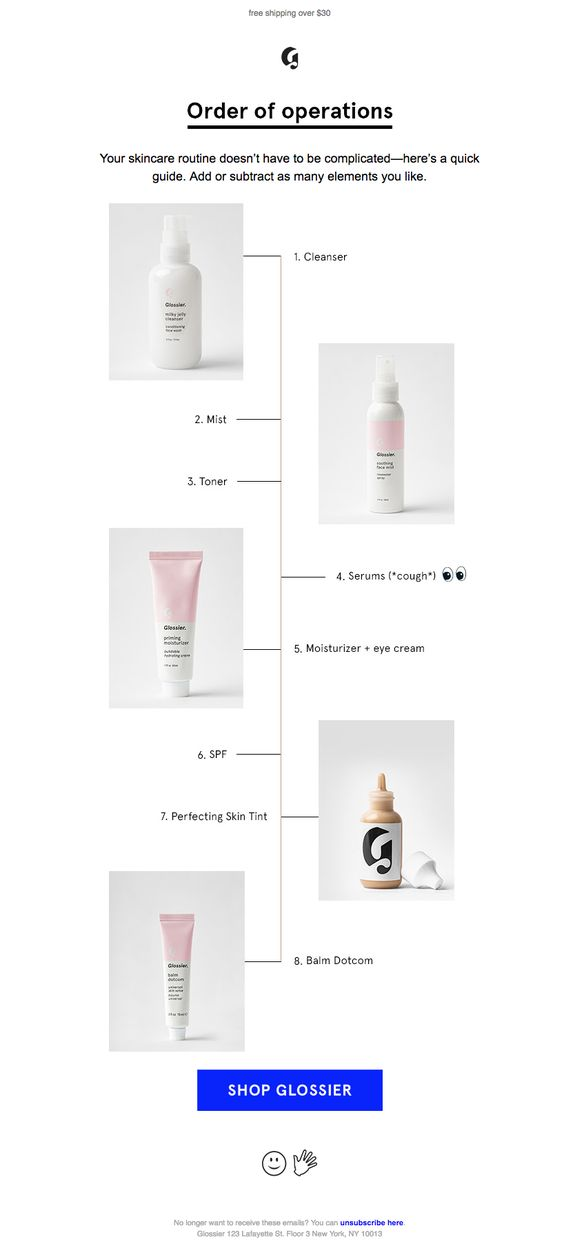 REI
Why do we like this email?
The text is motivational, friendly, and concise
It contains high-quality images that help the reader understand the experience they'll get
The email focuses on the client's experience rather than on the product
Monica Vinader
Why do we like this email?
It includes a call-to-action button, so the reader understands what they are supposed to do
The text provides information about the product
It features a high-resolution image that accurately presents the product
A 4-week plan for the retailers that want to boost conversion rates during holidays
To give you that extra boost you need to create an engaging retail campaign, we created a four-week program that includes messages you should send to prospects during holiday seasons. Because at the end of the day, retail email strategies are about sending the right message to the right recipient.
Week 1 email – Customers realise they have little time to buy gifts for their loved ones
The first email should provide a solution. Send them an email with a big picture that tells them you offer a free gift. Write a call-to-action that asks them to check your website or visit your store, to grab their gift. Tell them to act in some way to receive something.
Alongside sending emails you should also update social media pages with pictures showing possible gifts. Post a short description for each product to tell the audience why it makes a perfect gift.
Week 2 – People buy gifts from October, so remind them to buy something for themselves
Send another email with a high-quality picture, but this time the call-to-action should encourage them to buy something to splurge themselves.
Post on social media pictures of top products, with calls-to-action that invite prospects to test them in the store.
Week 3 – This is the panic week. You need to target mission shoppers who are hunting for seasonal items
Email them again with a big image that shows them what last-minute options they have. Remind them what delivery options you provide, and offer free gift-wrapping services for the ones who meet certain conditions.
Post on social media pages gift ideas and wrapping tips daily. Schedule them in advance because it will be a busy time. Update social media platforms with special offers and deals.
Week 4 – When Christmas is during the week people probably have to go back to work the second day of Christmas
Send them an email that offers last-last-minute gift ideas. Include a countdown timer to Christmas to remind them the time is running and they forgot to buy something for their loved ones. Workaholics will appreciate it.
Send a follow-up email on Christmas Eve to present them the clearance sale you organise on the Christmas day. List them the open hours and highlight what items you'll list on sale.
Wrap up
Retail email strategies are ultra-powerful tools you can use to improve your marketing campaign. They help you get new clients, boost conversion rates, increase sales, and encourage brand loyalty. The above guide provides complete information to help you design the perfect retail email, but if you want to know more, Google is always a valuable source.