Blogging is a way to express yourself. You can also make some money with blogging. Its all about to your blog performance. Being a blogger you want to track your blog's stat every time. Sometimes you need to write a post on your smartphone. You get some idea about your next post and want to note down it.
Everyone has a smartphone and it helps you a lot. And this can help you a lot. Even I personally do many blogging related works on my Android mobile. I listed some best Android apps that I think a blogger must installed on his phone.
Must Have Android Apps For Blogger
If you have a blog that running on WordPress. Then is the best app to keep on your phone. This app is useful for those who use JetPack plugin on their blog or have a blog on WordPress.com. JetPack plugin only works when you connected your blog with your WordPress.com profile.
Why should you have WordPress on your phone?
You can track your blog stats.
Find which post viewed most and how much times in a particular time period.
Also, find out the keywords with those your blog get traffic.
Get notified when someone commented on your blog.
Manage comments and users.
Add, publish, update and delete posts.
Customise your site settings.
One must install JetPack on their WordPress blog. I found it is the only way to find out the keywords that give your blog traffic, even Google Analytics does not show keywords in most cases.
Read Also: Install WordPress on Your Server/localhost
If you are using Blogger, then this app is for you. Most of the Android apps developed by Google are best in their field, but blogger app is not much good. You only manage posts from this apps. Its UI is also not good. Although it gives you an easy way to manage posts on your Blogspot blog.
Being a blogger you know about Analytics. Google Analytics provides you blog/site stats. In Analytics Android app, you can access all feature as on its web version.
Features
The best advantage of having Analytics on mobile is that you can access multiple Analytics accounts.
Can track all kind of traffic your blog is getting.
Easily access real-time traffic.
AdSense is for making some money with your blog. AdSense is a Google service and most trustworthy for online advertisement. With AdSense app you can:
Track how much you earn.
Also get all parameters related to you your site, like impression, CPC, Page views etc.
Can know which AD is doing good or which is not. So you can find a better location for AD placement.
Access almost all features of AdSense other than AD generation.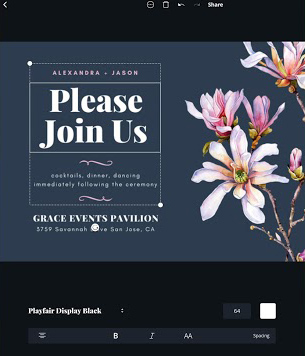 One of my favourite Android app. Canva provides pre-made awesome images. You can customise them as per your requirement. Also, provide Free Images. You can make almost all types of images for your blog posts. Easy to use and have web version also.
Social media images that make your brand and your life look great
Blog banners
Facebook posts and covers
Instagram posts
Twitter posts and headers
YouTube channel art and thumbnails
Logos
If you want to design transparent background images and logo, this is the best app on Play Store. You can make any size of the images in this app. It gives almost Photoshop-like features.
Thousands of free Icons.
Many types of fonts, you can also download more from settings.
Can make multi-layered images.
Best for logo design.
This app is best for Taking notes, making targets. You can access Google Keep in the browser also. So take notes on your mobile and access it on your laptop while working. You can take your next post idea, make lists of next posts and mark done when you have done. So in this manner, you can plan your works.
Best app to schedule your day also make future plans. It will remind you. You can set a reminder on the app as well as Email notification. With Wunderlist you can work together and access it across the devices. You can also install this app on Windows 10. So it works same as mobile on the laptop.
Add the comment, note to make your task more illustrative.
You can set a task in repeat mode also.
Also attach PDF, Image and presentations to the task. So in future, you can find it easily.
Easily share lists and collaborate with family, friends and colleagues.
Again Google App, Google Drive, the best way to access your files across the devices. There are many other file sharing app available, but Google Drive is almost pre-installed on every Android phone. So you don't even need to download it. And everyone has Google account, you can access with one ID. That's why it comes to my list.
Every blogger keeps its blog related information, such as backlinks list. Google Sheets helps you access your lists anywhere. Easy to manage and access Google Drive files also. Almost provide all features of Excel.
Hope you are using Buffer on your system. With Buffer, you can schedule share your posts on social sites. Just give a try to its Android app. Although the mobile app is somehow hard to use, I suggest you hashtags when you type them. When copying a link and open Buffer, it asks to share it. And you can also share a link from any app, Buffer will be added to the list of apps.
Did I missed out any App or Have a suggestion?
Although I try my best to list out these apps. As I just dive into the ocean of the blogging so not using AdWords till now. That's why it is not on my list. All apps are general purpose app to make your task easy. If you using any other useful app let me know.